Shanghai resumed work and production on June 1st. The shipment was arranged on the first day. HGM80 21 roller grinding mill will be sent to Pakistan.
The 21 roller mill will be used in the production of calcium carbonate. This Pakistani customer's raw materials are limestone, calcite, and dolomite.
The discharging fineness is 600 mesh to 800 mesh. The output is 3 tons per hour.
What is 21 roller mill?
21 roller mill
also called
HGM80 ultrafine grinding mill
. In Pakistan, 21 roller mill is better known.
HGM ultra-fine grinding mill
is a kind of ultra-fine pulverizing equipment developed and produced by
Shanghai CLIRIK
for processing non-metallic ores.
In fact, there are 7 models of HGM series ultra-fine grinding mill:
HGM80, HGM80A, HGM90L, HGM100L-Ⅱ, HGM100P, HGM125L, HGM1680L
.
21 roller mill (HGM80) is the smallest model. It gets its name because it uses 21 roller.
So there are also have 24 roller mill (HGM90) , 28 roller mill(HGM100) and 32 roller mill (HGM125), etc.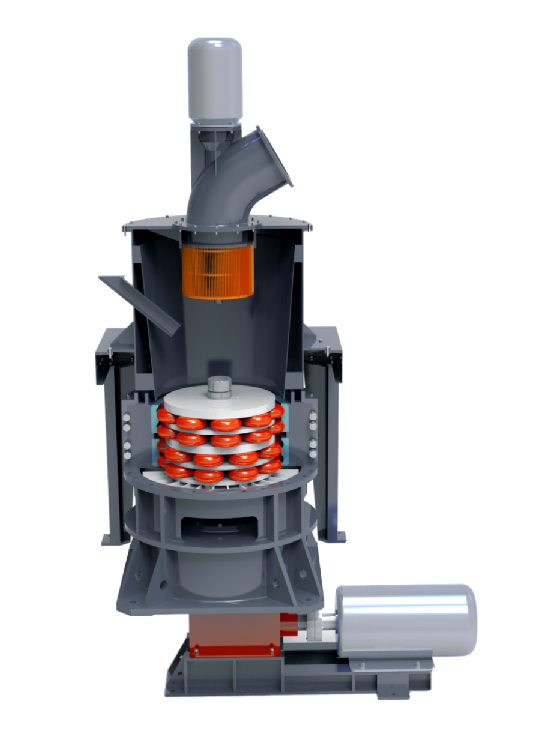 The red circles neatly arranged in the above figure are rollers
21 roller grinding mill parameters
Model
Average Diameter
(mm)
Rings Number
(pcs)
Roller Number
(pcs)
Feeding Size
(mm)
Output Size
(mesh)
Capacity
(t/h)
Overall Dimensions
(L*W*H)
(mm)
Power
(KW)
Weight
(ton)
HGM80
800
3
21
≤20
150-3000
0.5-6
8605*4139x6050
142
15
Application scope of 21 roller mill
HGM Ultrafine Grinding Mill
mainly apply to the non-inflammable, non-explosive and brittle materials with Moh's hardness under 6, such as limestone, marble, calcite, chalk, limestone, dolomite, gypsum, kaolin, talc, mica, feldspar totally more than 100 kinds of materials.
The final fineness of the grinding materials can be adjusted between 325 meshes and 2500 mesh (47-5 micron), and the product fineness can reach D97≤5μm.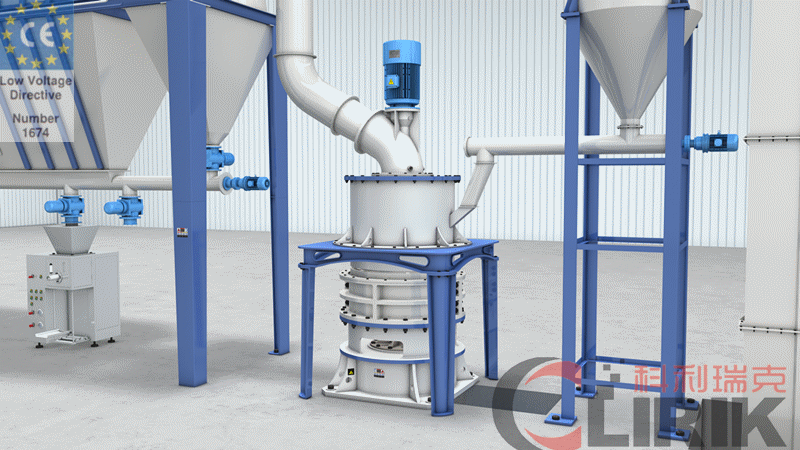 Working principle of 21 roller mill
1. Large pieces of material are crushed to the required size by the jaw crusher.
2. Crushed material is sent to the storage hopper by elevator.
3. Vibrating feeder send material to the main grinding chamber evenly and continuously for grinding.
4. The ground powder is taken away by the airflow of the fan and classified by the analyzer.
5. The finished product that meets the fineness is collected by the airflow through the pipe, then into the large selection air collecting pipe.
6. The material is discharged through the powder outlet pipe to become the finished powder.
Advantages of 21 roller grinding mill
1. High powder fineness process, the powder fineness can be adjusted between 300-2500 mesh;

2. High capacity, there are 5 models stone powder making machine in Shanghai Clirik, the highest capacity can up to 45 t/h;

3. Environment friend, Clirik HGM stone powder making machine id environment friendly, it was popularity by our customers;

4. Factory price, compare with other brand, Clirik is grinding mill machine manufacurer, so we can supply our customer machines in a lower price;

5. Good after sales service, 24 hours hot line can help you relove any problems you meet.


Parameters of HGM series ultrafine grinding mills
Parameters of HGM Series Ultrafine Grinding Mill
Model
HGM80
HGM80A
HGM90L
HGM100L-Ⅱ
HGM100P
HGM125L
HGM1680L
Ring Diameter(mm)
800
800
900
1000
1000
1250
1680
Ring Number (PCS)
3
3
4
4
4
4
4
Input Size (mm)
≤10
≤10
≤10
≤15
≤15
≤20
≤20
Output Size (mesh)
150-3000
150-3000
150-3000
150-3000
150-3000
150-3000
150-3000
Capacity (t/h)
0.5-5.5
0.5-5.5
0.8-6.5
1.2-10
1.2-11
2.5-20
5-45
Outlet Size L*W*H (mm)
8605*4139*6050
10454*3393*6626
11735*3952*7525
14507*3633*7562
14362*4200*7562
19261*4406*8591
25067*5414*9007
Main motor power (kw)
75
75
55*2
132/75*2
132/75*2
185
315
FAQ
Who we are?
Shanghai CLIRIK Machinery Co.,Ltd. has been committed to the field of ultra-fine powder grinding machines for 20 years.
CLIRIK has a first-class manufacturing base with standardized and intelligent production lines.
CLIRIK's professional R&D, sales, installation and after-sales teams have provided door-to-door services to more than 100 countries and regions.
Which models can be selected for processing ultra-fine powder?
HGM grinding mill: 74-5 micron(200-2500 mesh); D97=5 micron
YGM Raymond mill: 613-33 micron(30-325 mesh); D90=30 micron
CLUM vertical roller mill: 20-5 micron(600-3000 mesh); D50=2 micron D97=4 micron
How to get the latest quotation?
You can leave a message online or contact CLIRIK directly:
Email: [email protected]
WhatsApp: +8613512155195/+8613917147829