What materials can be processed by the ultra fine grinding mill?
The ultra fine grinidng mill
is mainly suitable for processing non-flammable and explosive brittle materials with Mohs hardness less than 9 grades. The discharge fineness is between 325-3000 meshes, mainly including calcite, limestone, dolomite, coal, mica, Talc, graphite, quartzite, fluorite, kaolin, bentonite, barite, potash feldspar, feldspar, coke gemstone, coal gangue, rare earth, marble, ceramics, bauxite, slag, water slag, activated carbon, pulverized coal More than 100 kinds of materials such as ash, clay, gypsum, etc.
How to choose ultrafine grinding mill?
With the development of science and technology, the milling industry is constantly reforming and innovating. New elements are constantly pouring in. The performance of the grinding mill is more and more advanced, and its models are increasing. With the increasing number of mill models, the majority of users are likely to enter a misunderstanding when purchasing mills, that is, they like to choose mills by price, so it is difficult to choose a suitable mill. The mill is out. Users who know the milling machine industry know that when purchasing a ultra fine grinding mill, you must first figure out what the material you want to process, how fine the processing is, and how much output you need. Only in this way can a suitable grinding equipment be purchased.
Wide application range of ultra-fine powder mill
Due to its wide range of use and high cost performance, ultra-fine mills are used in a wide range of industries, including paint industry, paper industry, pigment production industry, rubber industry, plastic production industry, filler industry, cosmetics industry and chemical industry, metallurgical industry, building materials Industry, chemical industry, mine milling industry, etc.
Ultrafine powder grinding mill is more environmentally friendly
As people's awareness of environmental protection continues to increase, the development model of the green economy has taken root in the hearts of the people. Due to the particularity of its work, the milling equipment will produce a certain amount of dust pollution, so the dust removal system becomes more and more important. The ultra-fine powder mill is equipped with two types of equipment: a diffusion chamber cyclone dust collector and a pulse bag dust collector, which can effectively collect dust without causing atmospheric pollution.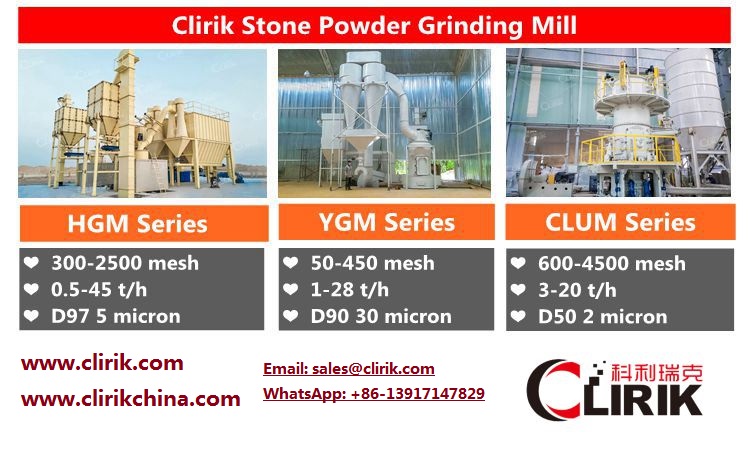 Shanghai Clirik Machinery Co., Ltd.
is a professional ore milling equipment manufacturer. Our company has developed
YGM series ultra fine Raymond grinding mill
,
HGM series ulrafine grinding mill
and
CLUM series superfine powder vertical roller mill
. Our ultra-fine grinding mill equipment with complete models and affordable prices. Welcome to leave a message online for consultation.