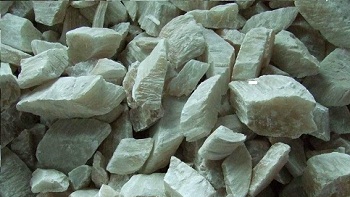 Gypsum is an evaporite mineral most commonly found in layered sedimentary deposits in association with halite, anhydrite, sulfur, calcite, and dolomite. Gypsum (CaSO4.2H2O) is very similar to Anhydrite (CaSO4). The chemical difference is that gypsum contains two waters and anhydrite is without water. Gypsum is the most common sulfate mineral.
Uses of Gypsum
Gypsum uses include: manufacture of wallboard, cement, plaster of Paris, soil conditioning, a hardening retarder in portland cement. Varieties of gypsum known as "satin spar" and "alabaster" are used for a variety of ornamental purposes; however, their low hardness limits their durability. However, different fineness gypsum powder has different use range.
1. less than 250 mesh: the gypsum powder can be used for a variety of feed additives.

2. 250 mesh to 300 mesh: It can be used as raw materials for plastic, rubber factory, paint factory, the factory's and exterior paint coating.

3. 300 mesh to 400 mesh: the gypsum powder can be used in the manufacture, drainage pipes, and chemicals.

4. 400 mesh to 600 mesh: can be used for toothpaste paste, soap. It is worth to say that, if the gypsum powder is used in daily supplies, the health requirements for the gypsum grinding mill are more stringent.

5. 600 mesh to 800 mesh gypsum powder:It can be used for Rubber, plastic, cable, PVC.

6. 800 mesh to 1250 mesh: the gypsum powder can be used in PVC, PE, paint, paint, paper coating, and paper coating.

7.gypsum powder which have high purity and whiteness, non-toxic, odorless, fine oil low, low hardness and other characteristics, it can be used as calcium supplements.